Knee-length dress. Trousers in vivid, cheerful colours.
Exciting accessories. Romantic flowery patterns in
combination with a brash leather jacket.
This summer's fashion offers many opportunities.
"Dare to experiment, dare to mix and dare to
be personal," urges Nina Rönnholm.
The snow is still deep when Nina Rönnholm is choosing clothes for the summer. But after 18 years in the business she knows what is usually in demand.
"Well, after so many years you know your regular customers", she says. "But you still have to think in new ways all the time, because new clothes often bring new customers."
There was nothing obvious about Nina's decision to open a clothes shop. It could just as well have been something to do with gardening.
"Fashion wasn't my great passion. On the other hand, I have always enjoyed creating with my hands, and I have often done so with earth under my nails… But it can be good to have a profession with one direction and a leisure activity with a different direction," she muses.
With the aid of clothes, and accessories, you can emphasize different sides of yourself and your,personality. And this summer's fashions give scope for personality. The same garment can be worn by both young and old, and in different combination the same garment can be used in different contexts.
"Many people have a black-and-white style, so my suggestion to them is often something that sticks out, something in a bright colour. Perhaps a bag, a top, a pair of shoes or a piece of jewellery."
In summer even paler colours are completely right. Different shades of white, khaki, pale blue.
"Jeans can very well be bleached. And a white shirt with that. The navy style in blue and white always gives a fresh impression in summer, and low textile shoes with that make it casual," is Nina Rönnholm's hint.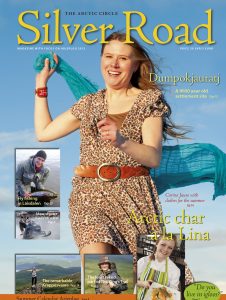 The choice of clothes to wear is guided by many factors. Different periods in life give different conditions, and how that affects our dress style is highly individual.
"I was more interested in clothes in the past, perhaps not really what you would call crazy about clothes, but it was definitely an interest I had. Now it feels more important to devote the time to children, school, work and things like that," says Ingela Eriksson,
Ulrika Lundmark observes that her interest in clothes has grown over the years.
"I was amazingly uninterested in clothes when I was younger. But now I think it's fun. And I like skirts and dresses, that's something for me."
One reason for Ulrika's increased interest in clothes may be that she is now working in a bank.
"We have no uniforms, but it's important that we are presentable, so I have to think carefully about what to wear to work," she says.
Ingela Eriksson and Carina Juuso both work as assistant nurses, and they have special working clothes provided by the employer.
"That could definitely be one reason why I am no longer as interested in clothes. I don't need to dress up for work. And in our spare time we are outdoors as much as possible," Ingela says.
Jeans are a favourite garment for many. And it is jeans that Carina Juuso prefers to wear when she can choose for herself.
"As a rule, the clothes that you feel comfortable in are the ones that suit you," she says. "Jeans also fit in most situations. Except when I go to christenings, weddings or funerals, for then I always wear Sami dress," she says.
Text Marianne Hofman
Photo Maria Söderberg 
Translation from Swedish to English: Alan Crozier
Footnote:
We would like to thank Hotell Silverhatten in
Arjeplog for letting us use their spa and restaurant
for the photography.